About Progress Park
[one_half]
About the Park
Progress Park is a productive setting for the many bioscience, tech and other companies attracted to its site in North Central Florida. Located 5 minutes from I75 in the City of Alachua, this private Park has easy access to the University of Florida (UF) in Gainesville and the Gainesville Regional Airport. It is centrally located two hours from Orlando, Tampa, Jacksonville and Tallahassee.
Companies located in Progress Park may apply for Foreign Trade Zone 064 status through JAXPORT. The company's direct imports would be treated as if they remain in a foreign country and they not pay U.S. import duties. FTZs help customers trim cash flow. They allow companies to defer payment of import duties until they sell goods to U.S. buyers outside the zone. Or they can skip duties completely if the goods are re-exported.
[/one_half]
[one_half_last]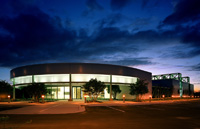 Park Profile
Park development has been shaped by the presence of a major UF spinout, RTI Surgical (Nasdaq: RTIX) as well as UF's Sid Martin Biotechnology Incubator program. Two-thirds of the more than 30 Park businesses are bioscience or technology companies. Nearly 1200 people now work in the Park.
[/one_half_last]
[one_half]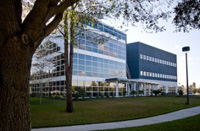 Biotech & Manufacturing
Center of Excellence for Regenerative Health Biotechnology (CERHB)/Biotility (http://biotility.research.ufl.edu) – This UF program provides workforce education & training and translational research to support the growing biotechnology-based industry.
Brammer Bio (www.brammerbio.com) also has a facility in Progress Park and offers a wide range of biopharmaceutical development, manufacturing and testing services to the pharmaceutical and biotechnology industry.
Santa Fe College – SFC's newest campus, across from the Park, is the Charles R. and Nancy V. Perry Emerging Technologies Center which promotes training and education in the life sciences and offers an Associate of Science degree in Biotechnology Laboratory Technology and a Bachelor's of Applied Science degree in Clinical Laboratory Science.
Santa Fe High School – Located 5 minutes from the Park, Santa Fe High School is one of the first high schools in Florida to offer an industrial biotechnology program. Coursework was developed through CERHB in collaboration with the high school, Santa Fe College, UF's Center for Precollegiate Education and Training, and others.
[/one_half]
[one_half_last]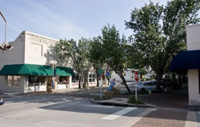 Local Area
Bordering the Park is the 7000 acre San Felasco Hammock Preserve State Park with miles of trails for hikers, bicyclists and horseback riders. These amenities combine the small-town charm of Alachua and the intellectual and cultural opportunities of Gainesville to offer an appealing lifestyle that attracts and retains a talented workforce.
Learn More about Our Community
[/one_half_last]