PARK HISTORY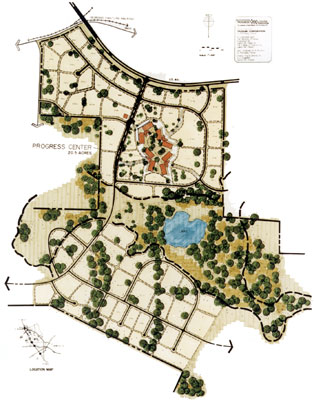 The Progress Park began as the vision of one man – Dr. Robert Marston, president of the University of Florida during the early 1980's. He envisioned an office and research park where university technology projects and private start-up companies would co-locate for the mutual benefit of both. The University of Florida Foundation (UFF) owned a large parcel of land in the city of Alachua and 200 of those acres were designated for the park. UFF sought out UF alumni Andrew Hines as their development partner. Hines was then president of Florida Progress Corporation, which owned Florida Power.
In 1984, under Hines' direction, the Apalachee Development Company purchased the property from the University of Florida Foundation. Two years later, Apalachee applied to the city of Alachua for approval of a Development of Regional Impact (DRI) under chapter 380 of the Florida Statutes.
In 1987 Alachua issued a development order which permitted office and research development within the park. The first building constructed was the 59,000 SF Progress Center.
In 1990, the large animal facility was built and sold to the Board of Trustees of the Internal Improvement Fund for the benefit of the University of Florida. This board also purchased 6 acres in 1994 and built the Sid Martin Biotechnology Incubator.
Florida Power later spun off this property to Echelon International, which they controlled. In 1998, Echelon and UF entered into an agreement which provided, among other things, clarification of the organizations' obligations to one another and set on paper UF's continued commitment to the Progress Park. The university expresses this commitment by promoting the utilization of the park by UF research programs, faculty start-up companies and licensees of university technology.
The park's DRI was amended in 1999 to allow for much more diverse uses of the property, including light industrial, general office, distribution, medical, retail and hotel use. A group of local real estate investors purchased the park in March of 2000 under the name of Innovation Partners, Ltd. and Park development accelerated. Progress One opened in the Spring of 2007 and Progress Two and Three opened in 2009.
In 2011, SNH Medical Office Properties Trust purchased the majority of the vacant land and the four Progress Buildings.
The park property as well as adjoining properties has continued to develop and offers options for land purchase, build-to-suit, or office/laboratory rental.
In December 2015 Progress Park was home to 35 companies and 1,200 employees.